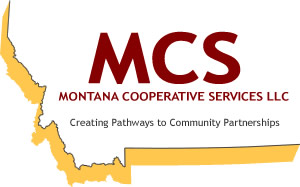 MREA, MTSBA and Montana Cooperative Services (MCS) extend an invitation to join the growing number of schools and counties participating in our cooperative bids program.
MCS (Montana Cooperative Services) bids for products and services for member schools under Montana state statute section 20-9-204. These bids then become available exclusively to our members. Companies enjoy the volume associated with being with MCS and schools enjoy the lower price that volume purchasing can bring and also the convenience of not having to go out to bid themselves. MCS is a member of the AEPA, Association of Educational Purchasing Agencies. This Association is comprised of 26 states that cooperatively bid for products to obtain volume discounts which are then passed on to all members. Schools and other non-profit entities in Montana are eligible for membership in MCS. Purchasing and pricing is done by contacting the appropriate company and letting them know you are a member of MCS. The "Catalog and Order Info." page detail how to order from each company. The cost of joining is $1.00/student with a maximum of $1200/school. MCS has been serving schools since 2001.
Mission Statement
To save members time and resources by exploring and solving present and future purchasing needs, creating partnerships, and obtaining the very best pricing available through a national competitive bid process- such that excellent quality and service are provided to all of our members in a measurable and cost-efficient manner.
Valued MCS Partners
---
Announcements
MCS FOOD PRODUCT SUPPLIER – RFP#16-01
DESCRIPTION
Montana Cooperative Services, LLC is seeking a contractor to provide Food Product Supplier services for approximately 163 participating Montana schools. A more complete description of the supplies and services to be provided is found in the four RFP attachments below.
IMPORTANT DATES
Deadline for Receipt of Written Questions: May 6, 2016
RFP Response Due Date: 2:00 p.m., Helena, Montana Local Time, May 27, 2016
CONTACT
If you need more information on this solicitation, please contact:
Procurement Officer: Thomas M. Gustin
E-mail Address: tgustinmcs@gmail.com
RFP 16-1: ADDENDUM#1- RESPONSE TO QUESTIONS:
MCS RFP16-1Response to Questions
RFP DOCUMENTS
MCS RFP#16-01 Food Product Supplier 4-27-2016
RFP#16-01 Appendix D – Directory of Schools 4-27-16
MCS-Affidavit for Trade Secret Confidentiality 4-27-16
MCS RFP#16-01 Appendix C-Market Basket 4-27-16
RFP 16-1: Review and Evaluation of Proposals
MCS will conduct a review and evaluation of proposals received on Thursday, June 9th starting at 10:00 a.m. at the Montana School Boards Building (3rd Floor) located at 863 Great Northern Blvd, Helena Montana.
MCS Review and Evaluation of RFP 16-1
Montana School Boards Association Offices (3rd Floor)
863 Great Northern Blvd.
Helena MT  59601
MTSBA Joins forces with MREA to Save School Districts Money on Purchases
Helena, June 9, 2014: MREA and MTSBA announced a new partnership in expanding access to MREA's Montana Cooperative Services (MCS) purchasing program today. The success of MCS over the last ten years has been compelling, helping school districts across the state enjoy tremendous savings on a wide variety of goods and services used in our public schools. Those savings have in turn allowed many school districts to redirect resources that had previously been paid out in profits to third parties toward increasing student achievement.
This new partnership makes it possible for EVERY SCHOOL DISTRICT IN MONTANA to be part of these savings as you purchase products and services used every day in school buildings across the state at the lowest price available in Montana. MCS has accomplished this success and with the resulting huge savings to our Montana schools as part of the national "AEPA"…the Association of Educational Purchasing Agencies. Through AEPA, MCS here in Montana combines forces with education advocates in twenty-five other states as we go out to bid in demanding the very best prices for all of our schools on thousands of common products and services that our schools purchase every year. MCS takes care of all of the state laws and the tremendous time involved in dealing with state and federal bidding requirements…your school district then reaps the benefits of nationally leveraged pricing with all of these contracts awarded right here in Montana.
When your school makes a purchase through MCS your school is guaranteed the very best price available on QUALITY products or services that have met all of our rigorous national AEPA specifications. You have the full backing of both MCS here in Montana and AEPA on the national level should you have problems with these vendors or services. In addition to these local benefits for your district, your membership organizations receive a small service fee that is included in your savings that we use to expand and improve services and advocacy for our members before the Montana Legislature.
If your school district has already joined MCS for the upcoming 2014-15 school year we want to thank you…you are now part of a much larger effort to save Montana schools even more money! If your school district has NOT joined MCS we hope that you will join this statewide effort now supported and recommended by both MREA and MTSBA!
Benefits of the MCS Purchasing Program
Volume counts! The combined purchasing power of MCS working with 25 other states and serving over 27 million students creates substantial discounts on products and services.
Convenient ordering! Purchase directly from the companies and order only what you need when you need it.
Favorite brands—excellent quality! You'll find your favorite brands all at lower prices. Quality is guaranteed, as every product in the program meets strict content and pricing criteria.
Satisfies bid requirements!
MCS…Over 25 states bidding nationally together with contracts awarded locally here in Montana!